Although I have been to a few Yoga classes over the years I have never been to one that was carried out in near darkness. The problem was I arrived a few minutes late and had not expected that all the dozen participants must have been ready and waiting well before 7pm. I stumbled into the semi dark Studio armed with an exercise mat to find it full and only a small space at the front, to the right of the instructor. Great location for a beginner to see what was going on and helped by the light, I realised that maybe I would able to get away with doing the exercises wrong!
Looking around the Studio there were two other guys and ten ladies, who were all well kitted out in colourful gym gear, whereas I was in my bog standard loose grey tracksuit. Maybe in this sort of class I should consider dressing the part, especially as a rusty beginner.
The lady instructor, whose name I forgot was welcoming everyone as I took up my position. She soon got into the rhythm of the exercises and one of the nice things about these classes is that you don't have to think about what comes next, as the instructor describes what one has to do with your arms and legs. As a beginner you certainly have to concentrate on which side is right and which is left, which direction is up and which is down.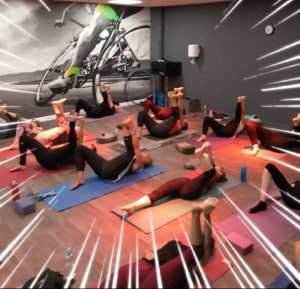 As you know there are Indian names for all the movements and positions but unfortunately the names meant nothing to me and so concentrating hard we all ploughed on. Some of the ladies had obviously done Yoga before as they appeared to flow effortlessly from one exercise to another. Meanwhile I was sort of moving from one position to the next, whilst trying to remember where my arms and legs were supposed to go and stealing a quick peak at what other people were doing. The peaking made me realise that I was not the only person, who was a bit lost, as there were a number of other uncoordinated bodies in the Studio.
This realisation was confirmed when the instructress said that next week she was going to suggest that the Monday evening Yoga class would be for experienced Yogistas and the Thursday evening class would be for beginners, so that the latter would not hold back the former and that the beginners would learn the correct moves and the names. An audible sigh of relief could be heard.
During the relaxing part of the 75 minute session we had a very interesting expalantion about Yoga being all about "loving oneself" and that this was the beginning of self confidence and ability to love others. Although I knew that Yoga was all about the link between mind and body, I was not quite expecting the philosophical to start at the first session. Certainly it was very nice to hear and I look forward to hearing more as in this hectic world we live in, we need more love and understanding if we are to overcome the many challenges the UK faces.
Roll on next Thursday and this time I need to get there early to book a better place. Maybe we will see you there as this sort of class can only help reduce the stress and improve one's wellbeing. Please note that if you are a Blue i tenant then we will help with the membership fee, as we know from personal experience how important exercise is in keeping one healthy… more details click/tap here >> ENERGIE FITNESS DERBY
William