Finding a new place to live, whilst being exciting, can be a very daunting and time-consuming experience. The amount of time you have to put into searching for and viewing properties can be extensive and can sometimes feel like a waste of time.
The images of a property are the initial selling point, our first impressions. These give you a basic idea of what the space looks like and if it will be suitable for you. However, they are often taken from one angle and realistically you will never be able to get a real feel for the property by simply looking at a few still images.
At Blue i Properties we've thought about how we can improve this experience for our tenants (and potential tenants). With a little lateral thinking, we thought, why can't we implement a system similar to that used by Google maps for their street view function, where we can show the viewer around the property from the comfort of their mobile device, laptop or PC.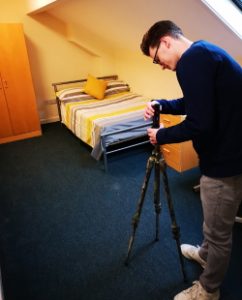 From this thought, Blue i 360 was born.
Using this technology, we believe will revolutionise how properties are viewed online. We are currently taking 360 photographs of rooms in the student properties we have available in order to give potential tenants the best idea of the space before they book viewings; freeing up time to get on with studies and socialising. We will also be rolling this out to cover our professional and family properties too.
With these 360-degree images, tenants will be able to view the property from every possible angle. We achieve this by using a 360-degree camera that takes two images from dual 180-degree lenses and then merges them together, forming a full image of a room that you can move around in, giving the viewer a perspective that you can't get from still images.
A lot of tenants wish that they could have had this feature when they were looking for their new home, mainly because they were spending a lot of time viewing properties that looked image perfect, but when they went and viewed the actual property, it didn't live up to their expectations. For example, they were too small or not light enough, there are so many things that 360 images can reveal that can save you time in the long run.
As mentioned, 360 degree images are revolutionising the property business, especially from a lettings point of view, making it easier for tenants to find their perfect home without the fuss and potentially reducing wasted viewings.
Below you will find an example of our 360 property tours. This is for our property on Uttoxeter New Road, have a look round and call 01332 371661 to arrange a viewing.