Thinking about life after university can be a bit daunting. For those who have a graduate position lined up, the future may seem slightly less problematic but it's still a bit tricky leaving education and finally entering the world of work with all its huge opportunities. Some people take some time out and go home after uni and chill but if you don't want to or can't, we're here to help.
We at Blue i can give you tips and advice about house hunting, post-uni, as it can be a bit of minefield.
Shared accommodation
Renting with other professionals (or students) in a house or flat share can ease the financial burden and smooth your transition from uni life. If you and a friend or group of friends plan on living in the same place, shared accommodation can be a good idea. Alternatively, you can join an existing house or flat share through sites such as Spare Room It certainly works out cheaper but sometimes the same old challenges of cleaning and pots and pans pop up. Click Here to Read More
Proof of income
Most landlords or letting agents will usually ask to see either your employment contract, recent payslips (normally about 3 months) or bank statements (again 3 months), or a letter from your employer offering you the job. This information will be used to create a Credit Reference, crucial to any AST contract. If you don't have a job immediately after you graduate and aren't claiming benefits, you'll most likely be paying through independent means. This usually means you'll require a guarantor and need to provide bank statements, showing savings for at least six months for the term of the tenancy.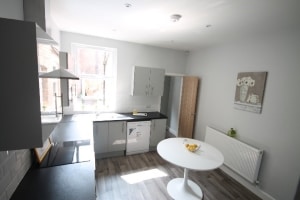 If you do have a graduate position but don't start until a few months into your tenancy, your landlord or letting agent may be flexible regarding your savings so long as you can provide proof of your future employment. Basically the more information you have to support your application the better.
Council tax
Up until now you most likely won't have paid council tax before, because student properties are exempt, but don't worry; paying council tax is easy. You'll usually be able to find information, set up direct debits, or make payments via your council's website but if you're having difficulty finding this, you can go to https://www.gov.uk/pay-council-tax, put in your postcode, and you'll be redirected to the appropriate webpage.  In terms of cost most two and three bedroom terrace houses in Derby are Band A, whose charge is £1,139.92/year. This is normally paid over ten months by Direct Debit.
More help
Post-university life is a challenge, what with getting up early, getting use to the world of work and finding accommodation but here at Blue i we are to help. Do pop in for a cup of tea or coffee and biscuit, met the dogs and learn what letting is all about. Don't forget that there is a huge mind boggling amount of information on line and one place to start is including the government's comprehensive checklist for renting in England.